National Conference on 'Himalayan Heritage: Community-led Economic Regeneration' organized by the ICH division in collaboration with the INTACH Uttarakhand Chapter and the UNESCO C2C at the Wildlife Institute of India, Dehradun to be held on 29th and 30th November, 2017 in Dehradun, Uttarakhand Back
INTACH-ICH National Conference
Himalayan Heritage: Community-led Economic Regeneration
Date: 29-30 November 2017
Venue: Wildlife Institute of India, Dehradun, Uttarakhand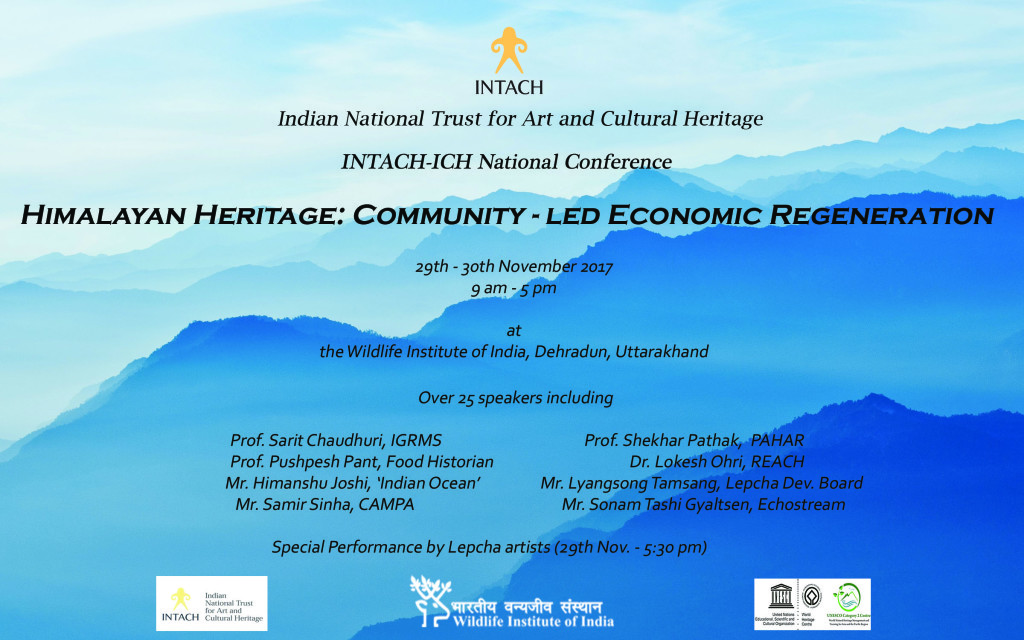 Concept:
The Himalayan region in India, broadly comprising the states of Jammu and Kashmir, Himachal Pradesh, Uttarakhand, Sikkim, the hill region of West Bengal, and Arunachal Pradesh, is a unique landscape dotted with communities possessing a wealth of intangible heritage. This is reflected in numerous languages, indigenous knowledge systems including medicinal knowledge, food ways, arts, crafts and performative traditions. Several major religions and sacred shrines have influenced the movements of populations and impacted cultural flows in the area. For hundreds of years, the beliefs and practices of ethnographically complex groups have informed the region's way of life, and contributed to the evolution of distinct cultural identities.
Due to the mainly agrarian nature of this region, its climatic conditions and tough topography, and lack of enough income opportunities locally, migration is on the rise, putting at risk many old traditions. Under gravest threat are the oral traditions of several communities, which incorporate invaluable local knowledge and creative output. This loss is also underpinned by the loss of languages, thus impacting the composite culture of this region.
Aim:
The Intangible Cultural Heritage Division, INTACH, in collaboration with the INTACH Uttarakhand Chapter and the UNESCO C2C at the Wildlife Institute of India, Dehradun, is organizing a National Conference on the intangible culture of the Himalayan region in the month of November 2017, with the aim to deliberate with community members, professionals, scholars, researchers and other cultural specialists on the idea of social and cultural identity, related oral traditions and to explore how this meets the challenges of an ever-changing contextual environment. The aim is to establish links between scholars, communities, and government/non-government bodies, to further the efforts of safeguarding intangible and 'lived' heritage, and explore its connects with economic regeneration.
A discourse through this seminar will reiterate the need for cultural mapping and research delving into the heritage of the region, and looking at cultural continuities and transformations observed over time. It is hoped that an understanding of local experiences, findings and case studies will generate newer research into the complex dynamics of the region and its interaction with the wider geography of the country, and also lead to targeted programmes to deal with some of the emerging issues, especially those related to livelihoods that sustain traditional communities.
Objectives:
1. To gain a better understanding of the notion of 'belonging', and to see how this notion is interpreted by the Himalayan people, in the framework of a distinctive set of cultural and spiritual beliefs. To map out the contemporary cultural dynamics, in a comparative study across the Himalayan region.
2. To identify the loss of language, indigenous knowledge, performing arts and oral traditions, and explore means to safeguard these, with impact assessment, documentation and revitalization plans. To look at means to involve the local community in strengthening their 'rootedness' and understanding of their unique and rich heritage.
3. To explore issues like tribal rights over land, forests produce and their management; and look into means to promote development and livelihoods with sustainability. To explore connected issues related to natural heritage management.
4. To explore avenues of employment generation through traditional creative occupations related to art, craft, performance and indigenous knowledge, and existing skills, and use of these as a resource for a community's economic development.
5. To educate and sensitize the youth about their cultural legacy, the new possibilities of employment related to cultural activities, heritage tourism; and capacity building through transmission workshops with knowledge-holders.
Themes:
The proposed conference will have different sessions encapsulating the above objectives. The following sub-themes will be considered in up to five sessions spread over two days:
1. Oral Traditions and their relevance today
2. Cultural Representation/Communication through Emerging Media
3. Communities and Natural Heritage Management
4. ICH as a source of Community Development; Creative economies
5. Women and Material Culture; as custodians of ICH and income generators